---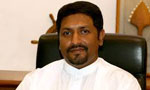 Some politicians in the North are making false allegations, stating that former LTTE cadres at rehabilitation centres are being injected with poison, which had resulted in them developing various ailments such as Cancer, State Minister of Defense Ruwan Wijewardene said yesterday.
Mr. Wijewardene, speaking to journalists at the Sri Sambodhi Viharaya in Delgoda, said that these false allegations are being made at a time when the government is making an enormous effort to resolve the issues faced by the people in the North and bring about reconciliation.
"It is sad to hear some politicians in the North making false allegations when the government is making a genuine effort to resolve the issue of the Northern people. Anyone, including those from the international community, can visit the rehabilitation camps after obtaining permission from the government and see for themselves the work that is being done," he said.
He said diseases such as cancer can effect anyone at any time. (Yohan Perera)
Video by Pradeep Pathirana