---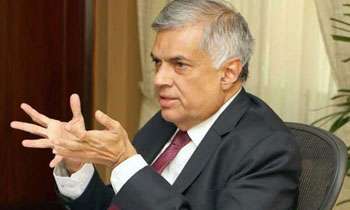 Sri Lanka cannot increase its interest rates as a precaution to the devaluation of the rupee as done by many other countries to save their respective currencies against the US dollar as it affects investors but will take some action to arrest the crisis in one month's time, Prime Minister Ranil Wickremesinghe said over the weekend.
Prime Minister Wickremesinghe who was speaking at a public function at Lourdes College in Nattandiya on Saturday said that Sri Lanka needs to handle the devaluation crisis with utmost care.
"Countries such as Indonesia, Argentina, India, Mexico and Turkey had increased their interest rates as a temporary measure. However, Sri Lanka cannot do so as high-interest rates will affect the investors adversely.
But the government will take some action in a month's time as the situation is expected to be more stable then," the Prime Minister said.
"The crisis actually started in 2008 when the US economy crashed. The value of the dollar went down. Investors withdrew their monies from the US stock markets. Other investors also took their funds out of US and invested in other countries. Money was pumped out of the USA.
However, the industrial production in the US has increased as of now. People in that country tend to spend more for purchasing as a result of concessions given by President Trump. Interest rates in the USA have been increased lately.
This has made the investors to pump their money out of other countries towards the USA. This is why the local currencies in many countries have devalued against the US dollar.
Value of a Euro has gone down by 1.3 per cent, Sterling pound by 1.3 per cent, Australian dollar by 6.5 per cent, Indonesian Rupaya by 8.6 per cent, Korean currency by 4.5 per cent, Philippine pesos by 7.5 per cent and Malaysian currency by 1.6 per cent. Sri Lankan rupee had gone down by 9 per cent and the Indian rupee by 11 per cent," he added.
"The price of oil has gone up today. Other than the price hike the USA has imposed on sanctions against Russia and Iran. Demand for oil that is produced elsewhere in the world increases as a result.
Therefore, the price of oil increases on one hand and the value of the dollar is increased. Prices of other commodities also go up as a result of the oil price hike. All other countries except the USA faces this crisis. As of now a sum of US $ 443 million has been taken out of Sri Lankan stock exchange and other markets," he said.
He also said the trade wars which the USA had got into with China and Canada had made things unclear where the globe is concerned. "We do not know what will happen in the future with the trade wars which the USA had got into with Canada and China. However, the government will not allow Sri Lanka's economy to crash," the Prime Minister assured. (Yohan Perera)