---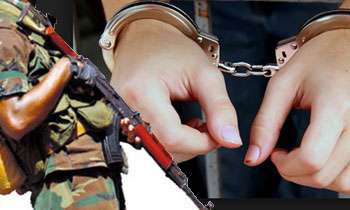 A soldier and an Army deserter had been arrested with a T56 assault rifle and a T-56 magazine believed to be stolen from the Ambepussa Army Camp last month.
Police Spokesman SP Ruwan Gunasekera said the suspects were arrested following information given by another soldier, who was in remand custody over a murder.
Earlier, the Peliyagoda Division Crimes officials arrested two soldiers attached to the Ambepussa Army Camp, in connection with an incident where T56 weapon was stolen after a 21 year-old Soldier was stabbed to death at one of the guard posts in the same camp on September 21.
The stolen T-56 rifle and the knife used for the killing were recovered by the Police along with the suspects on September 25.
The arrested soldiers A.P. Chanaka Wikumsinghe (29) of Kotadeniyawa and N.V. Danushka Lakmal (27) of Kantale were remanded till October 11 after they were produced in the Attanagalle Magistrate's Court.
SP Gunasekera said the further investigation into the incident had revealed that another T56 rifle and T-56 magazine at the camp were stolen by the first suspect (Chanaka Wikumsinghe) on August 2.
He said the stolen rifle and the magazine had been sold to an Army deserter trough a soldier of the camp at Rs. 200,000.
The Spokesman said the deserter, Manjula Welikala (39) a resident of Hokandara and the soldier, Pradeep Ruwan Katiyawa (30) resident of Katiyawa arrested on Monday (08) in Hokandara and Biyagama areas.(Darshana Sanjeewa)