---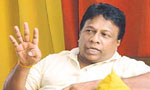 The joint opposition today charged the news forecasting and social media websites including the Facebook were under threat of the government's several bigwigs due to their necessity to ban those websites in Sri Lanka.
Addressing a media briefing, joint opposition member and MP Dullas Alahapperuma said it was evident from the recent incident where a journalist had being assaulted by the Navy Commander at the Hambantota Harbour.
"The government has come to power with the support of these news forecasting and social media websites. But at present the government is trying to suppress the same media institutions," he added.
He said the joint opposition has appreciated the Parliamentary Reforms and Mass Media Ministry's Secretary Nimal Bopage's refusal to sign the agreement to provide vehicles on lease terms to 58 MPs holding chairmanships in Divisional Coordinating Committees.
"He has been told to sign or resign by the Prime Minister. Despite of such a condition he has strictly refused to put his signature on the agreement. We highly appreciate his decision to stand firm on his decision as a government worker even though we had issues with him before," he added.
Meanwhile, joint opposition leader and MP Dinesh Gunewardena said the joint opposition would be prevailed as the force which would create the next government in future.
"Throughout this year, we have stood for the people and have intervened in each and every significant incident as a responsible opposition party to the government," he added. (Kalathma Jayawardhane)
Video by Sanjeewa