---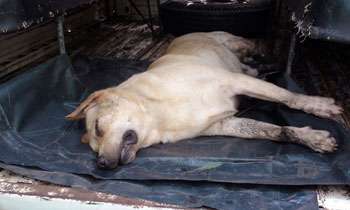 Narcotic busting sniffer-dog 'Cooper' was killed after being electrocuted while his handler, a Police Constable was hospitalized at Irattai Periyakulam in Vavuniya this morning.
The Police said the sniffer-dog was electrocuted when the dog touched the electric fence of the Irattai Periyakulam Police Station, while it was taken for its routine physical exercise.
Constable Udayakumara, who tried to rescue the dog, was also injured due to electric shock.
He was admitted to the Vavuniya General Hospital.
The Police said the fence had electric protection due to wild elephant threat.(Darshana Sanjeewa and Romesh Madushanka)