---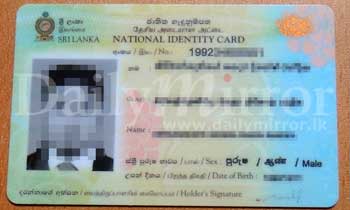 The smart identification card (Smart ID) was launched to the public today by the Department of Registration of Persons (DRP), Department Commissioner General Viyani Gunathilaka said.
To symbolize the Inauguration of the Smart ID, the first printed Smart ID was handed over to Wayamba Development and Cultural Affairs Minister S. B. Nawinne and fifteen other applicants who applied today at the ceremony.
Speaking at the event Mr. Gunathilaka said all National Identity cards would be renewed with front-facing images prior to converting them to Electronic Identity (E-ID) Cards.
He said the Smart ID programme was a huge challenge for the department however achieved the goal with many difficulties.
"The manual process was initiated in 1972 and the entire process changed to an automated form from Thursday evenin after receiving all the relevant electronic equipment. By initiating this process, the government plans to re-register all citizens and create a National Persons' Registry (NPR). In our country, we never had a database such as NPR. We have already made the legal background for this and within a short period of time we will begin the collection of information for the NPR database," Mr. Gunathilaka said.
The database will include information such as the blood group, family details and other personal information will be included in the registry, which could only be viewed by high ranking officials in the Department and law enforcement authorities under special circumstances.
The Commissioner went on to say that all details mentioned in the existing ID will be available in the new ID in all three languages, in addition to biometric data such as finger prints as well as a personalize bar code.
This Smart ID will be issued only for new applicants and renewals and is not compulsory for all citizens to obtain the Smart ID immediately.
"The existing identity card is valid. After the completion of the NPR, new ID's will be mailed to those who are already registered in the system. This process will atleast take a year to be implemented," he said.
The department is looking forward to decentralizing the system to ease the issuance of the ID and several Divisional Secretaries had already been given the facility.
The photos in Smart IDs issued from October, 27 will be engraved on a special polycarbonate plastic with the use of laser technology.
"This Smart ID is an interim solution before issuing the Electronic Identity (E-ID), which does not have an expiry date, unlike the EID which expires every ten years. The expiry date will be printed on the E-ID after completing the NPR and the IDs of those between the ages of 15 and 40 should be renewed every ten years. School children in grade 10 who are 15 years of their age can apply for the NIC before sitting for the General Certificate of Education (GCE) O/L. The ID's of those over the age of 40 will need no change. The ID's will be made according to international standards and will use a special software provided by the International Civil Aviation Organisation (ICAO). So far, the department has registered close to 1,700 studios countrywide. These studios have already installed the software provided by the ICAO, and the photos will be sent to the department online. The DRP has decided to launch a new registry for Sri Lankans by the end of next year. After collecting data, the department will issue Electronic Identity (E-ID) Cards by the end of 2018 or beginning of 2019," Mr. Gunathilaka said. (Chaturanga Pradeep)