---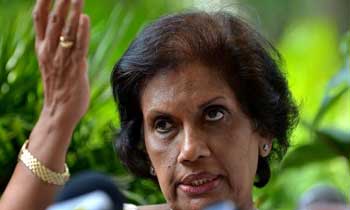 Former President Chandrika Bandaranaike Kumaratunga said at a recent function that a small group of extremist Buddhist monks, under the cover of their robes, were sowing discord, racism and religious fanaticism among the people.
She expressed these views at an event held at the BMICH on Wednesday to award prizes to the winners of the All-Island School Art and Essay Competition organised by the Office of National Unity & Reconciliation (ONUR) and the Bakeer Markar Centre for National Unity (BMCNU).
She said those who had no other means of gaining political power had resorted to racism and fanaticism as a tool for achieving their targets.
"I am a good Buddhist. What is more regrettable is the fact that a group of Buddhist monks indulge in extremism. That is a minor group. A majority of monks are good. Yet, what is highlighted most is the extremist voice from a few. We should not stop doing what is needed in fear of these extremist few," she said.