---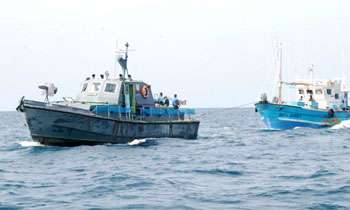 Six fishermen were stranded in their trawler 295 nautical miles east of Trincomalee, since this morning after they had sailed from Beruwala, the Radio Unit of the Department of Fisheries said.
Meanwhile, another fishing boat was reported stranded due to engine trouble about 650 nautical miles south of Galle.
The Fisheries Department said the first trawler was in distress due to an engine failure and was dragged Eastward due to strong currents.
The Fisheries Department said that it had informed maritime authorities of Indonesia, the Andaman Islands and the Maldives about the stranded of the trawler.
The Department said that another boat of the same owner had already gone to rescue the broken trawler.
However, due to high winds and rough sea, the boats are pulled towards Indonesia.
"We have informed the Sri Lanka Navy about the boat and Navy Media Spokesman Commander Dinesh Bandara said they had located the trawler and it was 295 nautical miles away from Trincomalee in the international waters," A Fisheries Department official said.
The Navy Commander also said that they had received information of another stranded fishing trawler due to engine trouble, about 650 nautical miles away from Galle.
"The Navy had sent a boat to bring that boat as well," he said. (Chaturanga Samarawickrama)