---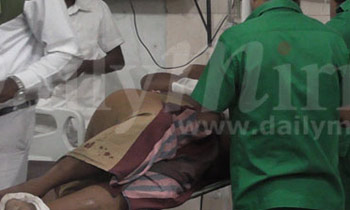 The Police suspect that the alleged shooting of Wimalaraj Nesan, the Director of Land Reform Commission in Batticaloa, had been a contract put out by a party involved in the unauthorized alienation of government lands in the Eravur area.
Police had deployed two separate teams to conduct further investigations.
Police sources further indicate that 428 acres of land belonging to the National Land Commission, located in the Punnakuda area in Eravur, Batticaloa had been illegally acquired by politicians and several wealthy persons and that Wimalaraj had obstructed this move.
Police believe that those who had been affected by Wimalraj's action had conspired to kill him.
Wimalaraj was shot at on Wednesday night and suffered injuries to his hand and stomach area. He was taken to the Kalawanchikudy Hospital but was later transferred to the Batticaloa Hospital for further treatment.
Hospital sources revealed that Mr. Nesan had sustained only minor injuries. (Siraj Hassim)