---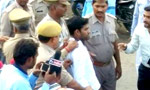 The second phase of Congress vice-president Rahul Gandhi's Kisan Yatra commenced on an unpleasant note with a shoe being hurled at him during his roadshow in Sitapur, which he termed as an act of the BJP and RSS.

"I want to tell people from the BJP and RSS that even if you hurl shoes at me, I am not going to move back out of fear. Your anger is proof of your weakness," said Rahul Gandhi, at a public address in Sitapur on Monday.
Addressing the shoe-thrower, Rahul stated, "You had hurled the shoe, the shoe went from this place to that place, and it did not even get registered in my mind. The story ends here. Keep your anger with yourself, I will keep the brotherhood ('bhaaichaaraa') with me."
Circle officer (City), Sitapur, Ram Sanehi Yadav told TOI, "The miscreant has been identified as Hariom Mishra, who claimed to be journalist of a local news channel. The incident took place around 2pm. Mishra threw a shoe towards Rahul Gandhi at Transport Crossing, but it could not hit the Congress leader." Police said the youth was detained immediately and taken to the city police station. According to eyewitnesses, Mishra was heard ranting about the roadshow while police said prima facie, he had no links with any political party. "FIR would be registered later," said Yadav. (Times of India)
Video courtesy - ANI