---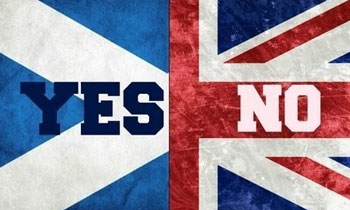 Only hours before Britain is to embark on its momentous journey out of the European Union, Scotland's Parliament on Tuesday underscored one of the risks along that path by voting to demand a new referendum on Scottish independence, the New York Times reported on Tuesday.
By a vote of 69 to 59, members of the Scottish Parliament in Edinburgh approved plans to request a referendum on independence that could take place just before Britain completes its withdrawal from the European Union, a process known as Brexit.
That timing has already been rejected by Prime Minister Theresa May of Britain, who must agree to any legally binding referendum on Scotland's future.
Nevertheless, the Scottish Parliament's vote sets the stage for a constitutional tussle between London and Edinburgh, and it illustrates the far-reaching, and destabilizing, consequences of Britain's divisive decision in June to withdraw from the European Union. In that referendum, 52 percent of voters chose to leave the European Union.
But Scotland voted, 62 percent to 38 percent, to remain in the bloc, illustrating a divergence between Scottish and English politics that poses an existential risk to Britain. In Northern Ireland, too, a majority voted to remain in the European Union, amid fears that a withdrawal could weaken the peace process there.
The Scottish vote came on the eve of a historic day for the British government intent on disentangling itself from more than four decades of European integration.
The vote on Tuesday empowers Scotland's pro-independence first minister, Nicola Sturgeon, to formally request a referendum, but she already knows Mrs. May's answer: not now.
The British government plans to withhold agreement at least until it has secured its departure from the bloc, scheduled for the first half of 2019.
On Tuesday, David Mundell, the British government's Scottish secretary, seemed to push the timetable further by saying that government "won't be entering into any negotiations at all until the Brexit process is complete." That hints at a date beyond the British withdrawal and after any further transitional period, perhaps several years later.
Nevertheless, Britain's vote has given Ms. Sturgeon's governing Scottish National Party a reason to demand another independence referendum, less than three years after it lost the last one in 2014.
At that time, Scots were told that if they voted to leave Britain, they would lose their place in the European Union. They may now lose it anyway. Ms. Sturgeon argued that Scots should have the right to choose between Brexit "or becoming an independent country, able to chart our own course and create a true partnership of equals across these islands."
Ms. Sturgeon argues that the shape of any Brexit deal should be known by autumn 2018. Scots should then have the opportunity to try, through independence, to stay in the European Union, or at least in its single market and customs union, she has said.
But with London intent on blocking a referendum anytime soon, Ms. Sturgeon's best hope may be for Mrs. May's stalling tactics to backfire — annoying Scots enough to persuade a majority to support independence if they finally have the chance to vote.