---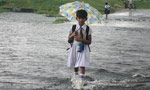 Education Minister Akila Viraj Kariyawasam authorized all zonal and provincial education directors to decide on the closure of schools in case of adverse weather conditions which would affect the safety of students and teachers.

Ministry Media Secretary, Kalpa Gunarathne, said the decision was taken after landslides, minor flood situations and hurricanes were reported in several parts of the country.

Accordingly, in case of emergency, all principals have been instructed to inform the zonal or provincial education director of the situation where after a decision on whether to continue school activities or to close the school would be made by the directors.

The Minister also instructed all principals to ensure the safety of students during school hours. (Piyumi Fonseka)