---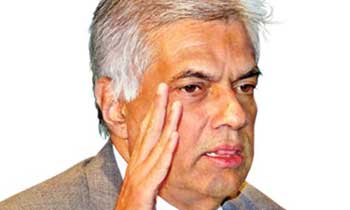 Prime Minister Ranil Wickremesinghe yesterday stressed the need for a new education system under which Government funded schools could play a greater role in educating children.
Mr Wickremesinghe made this proposal during a ceremony held at St Joseph's College Colombo to mark the Catholic Teachers' Day in the Archdiocese of Colombo last morning.
"We have to help the Government funded schools further. Government is already supporting these schools but more support has to be given. I have advised the Minister of Education to have a discussion with Cardinal and with the Buddhist schools such as Musaeus College and determine how the Government could support them further.
"It can be considered whether Government funded schools could be allowed to collaborate with other schools located close to them. If Government funded schools collaborate with a small school nearby it would be possible to develop both these schools. We need to think of new avenues. We need to redesign the country's school system. It is also essential to have disciplined teachers," the Prime Minister said.
He said the first two years of the Government was spent to devise a system to administer schools.
"Some schools have gained high standards with the systems provided by the Buddhist organisations, Catholic and Protestant Churches. School system is far from being sound today. Schools run by religious organisations do not provide and subject based education alone but builds up characters.
"The standard of the schools system today had given rise to tuition classes and international schools. If the Government kept only a few schools under its purview and allowed others to be run by religious organisations as in the 1960s, country's system would have been much better.
"Children have to go out of the country for higher studies today but those days foreign children came here to study," he added.
"The Catholic Church had done great service with regard to education throughout the world. People were educated in places of worship in the past when there was feudalistic society. In Sri Lanka education was provided in temples. In Europe this service was provided by the Church.
"This was how knowledge was provided. Some religious institutions became centres of higher education. There were Pirivenas in Sri Lanka.
"Some of these religious institutions which provided higher education were later converted into Universities such as Oxford and Cambridge. The Protestant Church introduced a school system.
"This system came to Sri Lanka in the 19th Century. The first school was started by the Government. The Protestant Church also started schools in Sri Lanka later. During this time there was a notion that other religions too should be allowed to start schools.
"Schools were then taken over giving rise to protests. The then Bishop Christopher Bonjin was instrumental in bringing in a concept of Government funded schools.
"Buddhist, Catholic, Hindu and Muslim schools came into existence as a result of his efforts. Catholic Church therefore rendered a great service. There were mostly Government funded schools mostly in the 1960s.
"There were Government schools as well such as Ananda and Nalanda and Visakha. The Church of England also owned schools. The Church was also involved in hospital work as well. The Government in the 1960s decided to take over private schools but allowed some schools to stay on as private ventures.
"They were asked to find their funds themselves. Late President J. R. Jayewardene and Dudley Senanayake said do not take over schools at once but do it gradually.
"Many schools were made Government funded schools. Buddhist organizations handed over all schools which were run by them to the Government, Catholic and Protestant schools kept some of the schools. Some Buddhist schools should have remained as private schools. There are no Buddhist schools today in Sri Lanka as a result of handing such schools over to the Government," he said. (Yohan Perera)