---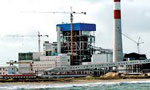 Following the government's decision to terminate the Sampur Coal Power project as an Indian investment, Indian Commerce Minister Nirmala Sitharaman said her government was looking at other options in Sri Lanka's ambitious plan to move towards renewable energy sources by 2020.
The Attorney General informed Court recently that the government would not proceed with the coal project that was to be executed under a joint venture between the Ceylon Electricity Board and the National Thermal Power Corporation of India.
Ms. Sitharaman, in her press conference on Tuesday, said Sri Lanka wanted to move to use gas as the basis for renewable energy
"Indian side is looking at it. We have the option of the Joint Working Group to look at the nitty-gritties of this - the supply of gas from Kutchi in Kerala,". There are various things to be looked into. Sri Lanka's energy requirement is growing. It is important for us to respond to it in time," she said.
She said national priorities should be reconciled with international commitments made.
"Obviously, nations talk about changing priorities and norms. If Sri Lanka chooses to move out of coal for renewable energy, we, in India, have to sit and engage with Sri Lanka although with difficulties, to get over this," she said.
She added, India fully appreciated the fact that national priorities should be reconciled with international commitments. (Kelum Bandara)