---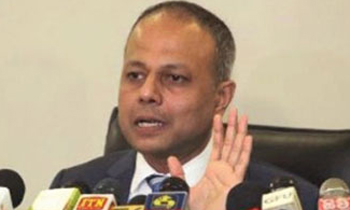 Law and Order Minister Sagala Ratnayake today denied reports that he had a secret meeting with former President's Chief of Staff Gamini Senarath who was remanded today.
Minister Ratnayake issuing a media statement in this regard said this was a baseless and malicious allegation as he had no intention of meeting a suspect in a corruption case which involved billions of public funds.
"Despite many challenges and obstacles, the Sri Lanka Police, the Police Criminal Investigations Department (CID) and the Police Financial Crimes Investigations Division (FCID) and I, as the Minister, endeavor to deliver results, in this regard. It is in this context that a section of the media, including some online publications and social media pages, have published news items indicating that former President's Chief of Staff Gamini Senarath, who is suspected to have embezzled Rs 4 billion of public money, had a secret meeting with me. This is a baseless and malicious allegation. I have no reason to meet a suspect in a corruption case involving billions of rupees in public funds. I have nothing to gain by holding meeting with a person of that "calibre," the minister said in the statement.
Therefore he categorically denied the allegation and charged that it was his firm belief that a handful of bankrupt political elements with hidden agendas are behind this propaganda campaign.
"It is widely known that a small clique affiliated with the top-brass leaders of the previous government were involved in large scale bribery and corruption cases. Their corrupt practices pushed over 6.2 million people to come forward on January 08, 2015, in a bid to topple the Rajapaksa government. President Maithripala Sirisena and Prime Minister Ranil Wickremesinghe, who gave leadership to these progressive forces, played prominent roles in this 'silent revolution'. The government of good governance and its ministers came to power with the promise of investigating into these cases of large scale corruption and bringing the culprits to book. I, as the Minister of Law and Order, have a special responsibility in this regard and I must state that I am committed and determined to fulfil that responsibility," the Minister added.