---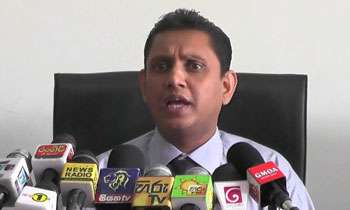 Following the Supreme Court (SC) verdict over the SAITM graduates issue, the Sri Lanka Medical Council (SLMC) was confused as to whether they should implement the SC verdict or the amended Kotelawala Defence University (KDU) Act, the Government Medical Officers' Association (GMOA) said yesterday.
Addressing a press conference GMOA Secretary Dr. Haritha Aluthge said that the SLMC would be liable for contempt of Court in both instances, even if it implemented the SC verdict and violates the KDU Act or implements the KDU Act and disregards the SC verdict.
He said that during the GMOA Central Committee meeting many issues that could arise as a result of the SC ruling had been discussed.
The GMOA represented the case as an intervening party in the case filed by the SLMC. However, the GMOA claimed that both the SLMC and the GMOA were not aware of the date of the ruling and were only informed on the morning of the day when the verdict was given.
"We will not challenge the Supreme Court decision. But we urge the President and the Government to intervene in the matter and explain the contradicting terms in the Supreme Court decision and the KDU Act," he said.
Meanwhile, GMOA Assistant Secretary Dr. Nalinda Herath said there should be strong communication and connection among the country's Executive, the Legislature and the Judiciary.
He said that the GMOA Central Committee had given authority to its Executive Committee to decide on the probable trade union action against the Government's double standards over this issue.
The Supreme Court on Friday (21) upheld the Court of Appeal's (CA) judgement issued to allow the graduates of South Asian Institute of Technology and Medicine (SAITM) to be registered with the SLMC.
The CA on January 31ordered the SLMC to allow registration of the SAITM graduates at the SLMC. However, the SLMC challenged this decision at the Supreme Court. (Thilanka Kanakarathna)
Video by Buddhi