---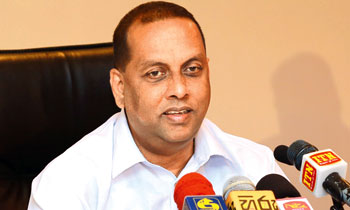 Minister Mahinda Amaraweera yesterday said the Central Committee of Sri Lanka Freedom Party (SLFP) was to decide on the No-Confidence Motion, which was to be brought against Prime Minister Ranil Wickremesinghe.
Addressing the media following an event held in Colombo, Minister Amaraweera said the SLFP would take a decision with regard to the No-Confidence Motion, which would be in favour of the country as well as a decision which was expected by the people.
"The No-Confidence Motion against Premier Wickremesinghe was proposed from the United National Party (UNP). The SLFP, as a democratic party will take a reasonable decision on it considering the well-being of the country," he said.
While referring to the recent Cabinet reshuffle, Minister Amaraweera said it could be better if it was done in a more scientific manner and added that more changes would be take place in coming week with regard to the positions of the SLFP in Cabinet.
He said the recent Cabinet reshuffle was basically made on the the side of the UNP and added that the authorities could not satisfy each and every person following a Cabinet reshuffle.
He also said it was obvious to face some sort of confusion after a Cabinet reshuffle; "Accordingly, several changes have been made to the Cabinet. It would be better if it had happened in a more scientific manner," he said.
"However, we cannot say the recent changes made on the Cabinet are bad. It is better if there are some more changes," he added. (Kalathma Jayawardhane)
Video by Damith W.