---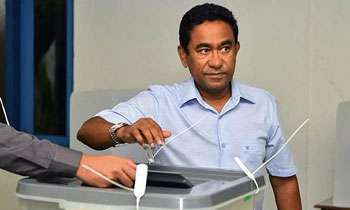 The defeated strongman of the Maldives Abdulla Yameen is welcome in Sri Lanka, Prime Minister Ranil Wickremesinghe has said.
According to the Daily Mail, in a phone call on Monday, Prime Minister Wickremesinghe "informed Mr. Yameen that he is welcome in Colombo at any time,"
Mr. Wickremesinghe made the call after hosting Yameen's arch rival and former Maldives president Mohamed Nasheed at a luncheon meeting on Monday.
Nasheed, the atoll nation's first democratically elected leader, was sentenced to 13 years in jail after narrowly losing the 2013 elections to Yameen.
He fled to London where he sought refuge and now lives in Sri Lanka.
Sunday's election was held with all key opposition leaders behind bars or in exile, leaving the little-known Ibrahim Mohamed Solih to challenge Yameen.
In a major upset, Solih won with 58 percent of the vote.
Sri Lanka has long been a haven for dissidents from the nearby Maldives over years of political upheaval, including for hundreds of opponents of Yameen since he became president in 2013.