---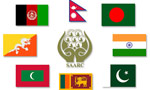 In the wake of four member-countries including India pulling out of the 19th SAARC Summit scheduled to be held in Islamabad on November 9 and 10, Sri Lanka said today the atmosphere in the South Asian region was not conducive for the holding of the Summit.
The Foreign Affairs Ministry said in a statement that the General Provisions of the SAARC Charter require that decisions at all levels should be taken on the basis of unanimity and that unanimity also applies to the convening of meetings of Heads of State or Government and of SAARC Member-States as well.
"Peace and security are essential elements for the success of meaningful regional cooperation for the benefit of the people of South Asia. As a founding member of SAARC, committed to regional cooperation, Sri Lanka hopes that the steps required to ensuring our region's peace and security will be taken to create an environment that is conducive for the pursuit of regional cooperation," it said.
The Foreign Ministry reiterated that Sri Lanka condemned terrorism in all its forms and manifestations and stressed the need to deal with the issue of terrorism in the region in a decisive manner.