---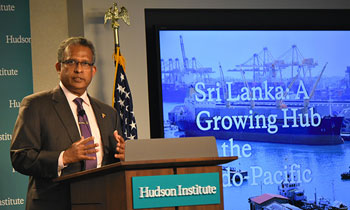 Sri Lanka is determined to work with the maritime powers of the region and beyond, to ensure that the Indian Ocean is conflict free, Sri Lankan Ambassador to US Prasad Kariyawasam said in Washington on Wednesday.
He expressed these views while addressing a public event hosted by the Hudson Institute, a Washington-based think tank, on "Sri Lanka, A growing hub in the Indo-Pacific."
"We are eager to work with the maritime powers of the Indian Ocean and beyond, to make our oceans secure for unimpeded commerce and peaceful navigation. Sri Lanka takes the security of sea lanes and maritime security in the oceans around us, seriously," he said.
He said Sri Lanka now welcome an increasing number of Navy vessels of major sea powers who regularly call at the country's ports on goodwill visits.
"In fact, just now as I speak, the US Pacific fleet and its transport vessel USNS Fall River is at Hambantota Port on the first-ever Pacific Partnership goodwill Mission to Sri Lanka, in partnership with the Sri Lanka Navy," he said.
The Ambassador said Sri Lanka is eager to work in partnership with countries in the region and beyond on humanitarian and disaster relief operations in the region.
"We are committed to prevent seaborne conflict, and to combat terrorism and piracy, and assist in harmonizing geo-strategic complexities in the Ocean around our region. In our view, an ocean based security architecture can be built to ensure a peaceful Indian Ocean, which can be extended towards the Indo-Pacific in time to come," he said.
Ambassador Kariyawasam said Sri Lanka now stands ready to play its full role as a responsible member of the world community, as a hub nation in the Indo-Pacific that serves its people, the region and the world beyond, for common prosperity.