---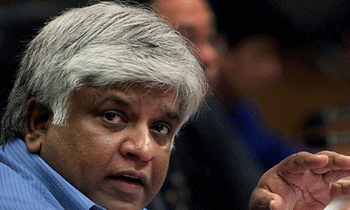 Even as the current crop of Sri Lankan cricketers struggle against India in the ongoing Test series, former captain Arjuna Ranatunga has lashed out at the current administration, saying that the sport in the country is being run by people with 'bad reputation' and 'the ICC should go after such people instead of going after small players', News 18 reported.
During an exclusive chat with News18, Ranatunga said that he would write to Sri Lanka's Prime Minister soon and seek government intervention to improve the standards of the game in the country.
"I don't want to watch Sri Lankan cricket anymore because the people who are running it are bad people. Their family business is gambling. If such people administer Cricket, what will happen to the game? All of us know what happens. The ICC should go after such people instead of going after small players. I request the ICC. Sri Lankan Cricket is in a bad shape because of people with bad reputation running it. It can't go on like this forever," Ranatunga said during a telephonic conversation.
It was under Ranatunga's captaincy that Sri Lanka stunned the world by winning the 1996 World Cup and started their journey to becoming a powerhouse in international cricket. Currently a cabinet minister of Petroleum and National Development, Ranatunga is ready to provide his service to clean up the current mess.
"I have nothing against them. They are my boys. They are good. They need a good guidance and clean administration. I am concerned about the future of cricket and cricketers".
"If the President and Prime Minister want me to head an interim board, I will do that. I will offer my services. I can clean it up," the former chairman of Sri Lanka Cricket said.
Ranatunga, who played 93 Tests scoring 5,105 runs, and 269 ODIs accumulating 7,456 runs, recently told a Sri Lankan daily that cricketers and cricket administrators were more worried about earnings, foreign trips and perks rather than commitment of winning for the country.