---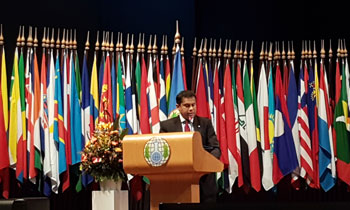 Sri Lanka called on the states still in possession of chemical weapons to take all necessary steps to expedite the destruction of such weapons since chemical weapons continue to pose a threat to global security.
Sri Lanka's Ambassador to The Netherlands and Permanent Representative to the OPCW, A.M.J. Sadiq made this call while addressing the 22nd Session of the Conference of the States Parties to the Chemical Weapons Convention in The Hague last Wednesday (29).
Sri Lanka also called for an urgent review of the composition of the Executive Council of the Organisation for the Prohibition of Chemical Weapons (OPCW) to better reflect the geographical distribution, the importance of chemical industry and the political and security interests of Member States in the contemporary world.
Referring to two instances of recent success in chemical weapons disarmament, Ambassador Sadiq conveyed Sri Lanka's appreciation to the Russian Federation for completing the destruction of its entire declared stockpile of chemical weapons, which, he said was a significant victory for the entire international community.
He also welcomed the completion of the destruction of Libya's remaining Category 2 Chemical Weapons and commended the Technical Secretariat and all other associated States Parties and organisations for their support and assistance in this endeavour.