---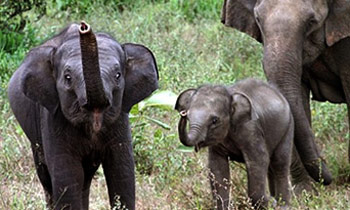 A Sri Lankan baby elephant gifted to New Zealand has been prevented from leaving the South Asian island after animal activists said it was cruel to separate her from her family.
Six-year-old Nandi was bequeathed to former New Zealand Prime Minister John Key by President Maithripala Sirisena at a meeting in Colombo in February 2016 to mark 'excellent bilateral relations' between the two countries.
New Zealand vets had visited Sri Lanka last year to prepare Nandi for the journey to Auckland Zoo.
But animal rights activists have since intervened, arguing against moving the elephant to a foreign country where she will likely find it difficult to be separated from her family and adapt to the new climate.
The group of 18 secured a temporary victory Friday when a Sri Lankan court was assured by the state that Nandi would not be flown out of the country pending a final decision on the case next month.
'Sri Lankan elephants have very strong family ties and to take away a child is a sin,' Omalpe Sobitha, a Buddhist monk and one of the activists, told AFP.
He added that the animal may not be able to cope with the cold weather in Auckland, where mean annual temperatures of around 15 degrees Celsius (59 Fahrenheit) would come as a shock to a calf used to the tropical 27 degree average in Sri Lanka.
'We have an assurance from the court yesterday (Friday) that Nandi will not be taken out of the country until the case is concluded', he said.
Born and raised in a 93-strong herd in a coconut grove at an orphanage in central Sri Lanka, Nandi is the second baby elephant to be presented to New Zealand in a year after a female baby 'Anjalee' was sent to Auckland Zoo in 2015.
Key told Sirisena at their meeting last February that Anjalee had gained 700 kilos (1,540 pounds) in one year and that it was 'loving its life in New Zealand and I am sure its friend (Nandi) will have such a good time as well in New Zealand'.
Sri Lanka has a long history of giving elephants as presents -- China has been gifted three over the years, and two each for Japan, South Korea, the Czech Republic and the United States.(AFP)