---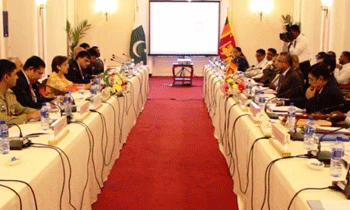 The Fifth Round of Foreign Secretaries Level Bilateral Political Consultations between Pakistan and Sri Lanka was held in Colombo on Tuesday.
Pakistan delegation was headed by Foreign Secretary Tehmina Janjua while the Sri Lankan delegation was led by Foreign Secretary Prasad Kariyawasam.
In a statement, the Pakistan High Commission said both the Foreign Secretaries noted with satisfaction the close and friendly relations, routed in history which have strengthened over the years.
"It was agreed to further consolidate the bilateral relations in all areas of mutual importance. The two sides reviewed the entire gamut of bilateral relations. The prospects of cooperation in trade, investment, defence, education, science and technology, culture, tourism, capacity building, immigration issues and sports were discussed in detail. The two sides also reviewed legal, protocol and consular matters," it said.
The two parties had agreed that the Joint Working Groups would oversee the implementation of the Agreements/MoUs signed between the two countries.
"Both sides concurred to expand the ambit of Pakistan Sri Lanka Free Trade Agreement (PSFTA). Sri Lanka welcomed the extension of Credit Lines of US $ 200 Million and US $ 10 Million by Pakistan and it was agreed to ensure their early implementation," the statement said.
It said Foreign Secretary Janjua highlighted the 'grave' human rights violations perpetrated by the Indian Occupation Forces in Indian Occupied Jammu & Kashmir against the innocent Kashmiris.
"She emphasized that the international community should urge India to immediately put an end to these atrocities and to ensure the early resolution of the Jammu & Kashmir dispute, as per the UN Security Council Resolutions," it said.
The next round of consultations would be held in Islamabad in October, 2018.