---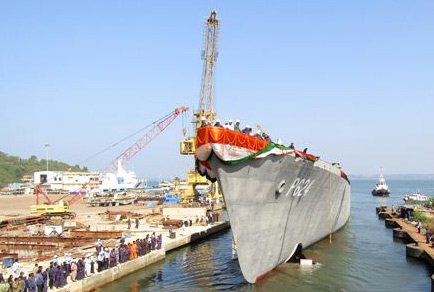 The second Advanced Offshore Patrol Vessel (AOPV) built by India's Goa Shipyards Ltd for the Sri Lanka Navy was ceremoniously launched today at the shipyard in Goa.
The state of the art ship which measures 105.7 m in length and 13.6 m in width features a helipad which is capable of landing a helicopter.
Navy said the ship also possesses the displacement capacity of 2350 tons. The AOPV offers spacious accommodation for the comfort of 18 officers and 100 sailors. Moreover the vessel has an endurance of 4,500 nautical miles in terms of carrying out its surveillance operations.
The vessel was launched to the water by the Sri Lankan High Commissioner in India Chitranganee Wagiswara.
Deputy Chief of Staff of Sri Lanka Navy and Commandant of the Volunteer Naval Force, Rear Admiral Neil Rosayro, Chairman and Managing Director of Goa Shipyards Ltd, Rear Admiral (Retd) Shekhar Mital, Director General Electrical and Electronics, Rear Admiral Wasantha Fernando, Commodore Dharmapriya Wijethunga and Commodore Kapila De Silva were also present at the event.