---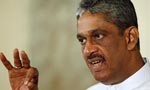 The visa application forwarded by Regional Development Minister Field Marshall Sarath Fonseka to visit the United States has been rejected, diplomatic sources said.
It is said that his visa application to the US was rejected last year too when he requested to visit his daughters.
It is known that some incidents that happened when he held the post of Army Commander might have resulted in the rejection process.
However, his media secretary Mahinda Kumara denied speculations over his visa denial .(Sujith Hewa Julige)