---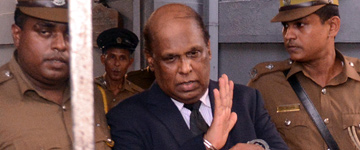 Former Western Province Senior DIG Anura Senanayake was remanded till May 26 by Additional Magistrate Nishantha Peiris yesterday over the inquiry of ruggerite Wasim Thajudeen's murder.
The former SDIG was produced to the court after he was arrested by the CID on the charges of Causing disappearance of evidence, fabricating false evidence touching it, to screen the offender and conspiring under the clauses of 198 and 296 of the Penal Code.
The CID revealed in Court that according to a statement of an eye witness; the Senior DIG Senanayake had been in the vicinity of the accident site in civil attire on May 17, 2012 between 2.45 a.m. and 3.00 a.m. in another vehicle.
The CID revealed in court that it had recorded a statement from an eye witness of the alleged accident of the ruggerite.
The prosecution also revealed that the former SDIG had ordered Narahenpita Crime and Traffic OICs to record the incident dishonestly as a fatal accident.
The CID told that the father of the deceased, Wasim Thajudeen, was also informed by the former SDIG that the incident was merely a fatal accident but nothing on 18th of May, 2012.
Appearing for the suspect, counsel Anil Silva PC moved a legal issue that the prosecution has no provision to put clause 296 of the penal code in 'B' report against the suspect, since the charges of fabricating false evidence cannot be linked into the punishment of murder on this particular incident.
And he also moved that the other offences and punishments stated in the 'B' report under the clauses of 190 and 198 of the Penal Code were bailable if the magistrate satisfied to grant bail considering the other facts.
However, the Magistrate Peiris rejecting the bail application held that under the clause of 32 in the Penal Code, 'Liability for act done by several persons in furtherance of common intention', provides more broader provision to a magistrate to consider on remanding a suspect and he also ascertained that the prosecution has provision to suspect someone during an inquiry. (Shehan Chamika Silva)
Video by Courts Prasanna