---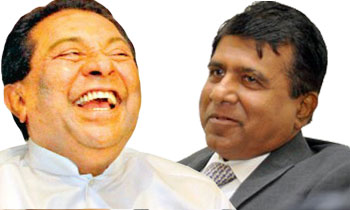 Social Empowerment, Welfare and Kandyan Heritage Minister S. B. Dissanayake today described former Justice and Buddha Sasana Minister Wijeyadasa Rajapakshe as a 'donkey' by saying that his absence had eased the procedures to resolve issues attached to the 'Samurdhi Vyaparaya'.
Minister Dissanayake said that the parties involved with the Samurdhi Vyaparaya hold two separate opinions over the issues related to the Samurdhi Vyaparaya. He said one party was completely against its proceedings.
"This condition is advantageous in several ways. To receive the benefits of this condition, it is necessary to remove former minister Rajapakshe from his post. It is better that 'donkey' is no more functioning in his post. Instead, a friendly minister, Sarath Amunugama has been appointed to oversee it. It is a positive move," he added.