---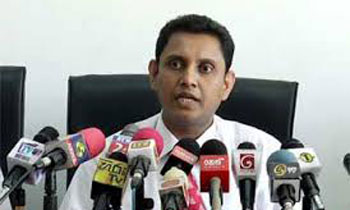 The Government Medical Officers' Association (GMOA) today urged Prime Minister Ranil Wickremesinghe to prove the government's attempt to solve the issues regarding the South Asian Institute of Technology and Medicine (SAITM) controversy through actions and not by talk.
GMOA Secretary Dr. Haritha Aluthge told a news conference that even though they had made many attempts to discuss these issues with President Maithripala Sirisena, the Prime Minister and several ministers, those discussions turned futile due to the intervention of an invisible force.
"We have called off our recent strike following a discussion held with Law and Order Minister Sagala Rathnayaka and he had assured us of releasing the university students who were arrested on baseless charges. Those students were to be released yesterday but it has been disrupted due to the absence of the Attorney General in courts," he said.
He said there was no use of carrying out discussions and arriving at conclusions in such a manner and added that it could be considered as a huge issue. He also said therefore the Executive Committee of the GMOA had decided not to take part in any discussions in formation of minimum standards to medical education.
He said even though the Prime Minister had advised his secretary to conduct immediate necessities to standardize the medical education, the other related authorities including legal institutes were not in support to carry on it.
"The government should reveal this invisible force behind these incidents, whose intervention which has caused contradictions of the agreements arrived by the government and us. We would not take apart in any discussion until the government reveals this force that was sabotaging these proceedings," he said. (Kalathma Jayawardhane)
Video by Buddhi