---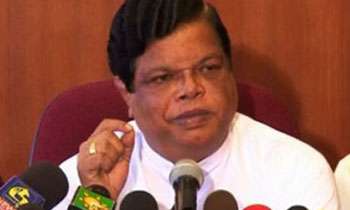 The joint opposition (JO) said today the Sri Lanka rupee would hit 200 against the US Dollar by the end of this year if the Singapore FTA, which had enabled thousands of items to be imported without taxes, was still operative.
JO MP Bandula Gunawardana told a news conference that a gazette recently issued in relation to the Singapore FTA had allowed the import of close to 4,000 items without Customs duty.
"The President appointed an experts committee to look into the Singapore FTA but the committee is still to release its report. However, it is unknown whether this controversial gazette has been withdrawn," he said.
The MP said the government's efforts at limiting imports to strengthen the rupee was futile as long as the New Trade Policy, which formulates FTAs including the Singapore FTA was still operative and pointed out that the New Trade Policy encouraged imports instead of reducing them.
"When this is the policy in writing, there is no point in limiting imports. Policy-based decisions should be taken to prevent excessive imports," he said.
Meanwhile, he rejected government remarks that the local fuel prices had increased due to the increase of crude oil prices in the world market.
"This is not true. During the Rajapaksa government, crude oil prices were high and fuel prices were low. Today, the fuel prices are high though the crude oil prices are low. This is a result of depreciation of rupee and high taxes imposed on fuel," he said.(Lahiru Pothmulla)