---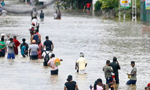 Certain persons who act in the guise of flood victims have taken away cooked food and dry rations in many flood affected areas.
The complaint was made by real victims in Wellampitiya, Angoda, Ambatale, and Meetotumulla.
One resident from Wellampitiya told Daily Mirror that they managed to get some cooked food from the doners but the dry rations are being grabbed by those who falsely claim that they have been affected by the floods. "Some have even got into houses which have been left by others and had robbed ," he said.
He said the high water levels prevented the security forces and the police from coming into the affected areas to provide protection to the residents.
This situation had occurred despite the assurance claimed by the government that maximum protection will be given to the houses.
Meanwhile, the army spokesman Brigadier Jayanath Jayaweera said the Army had provided relief to 116,000 people. The Navy had provided relief to 110,000 people while the Air Force too claimed that they are providing relief as well carrying out rescue operations.
Disaster Management Minister Anura Priyadharashana Yapa who claimed that the government is doing its maximum to provide relief to the victims said to dial 117 and lodge complaints if there is any shortcomings. Robbery of flood victims. (Shantha Senaviratne )