---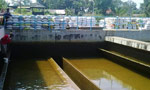 Rising sea levels will cause an increase in the water levels in the Kelani Ganga resulting in the shutting down of the new Ambatale water intake, Town Planning and Water Management Minister Rauff Hakeem told Parliament today.
He informed the House that the pump house would have to be shut down if the water level in the Kelani Ganga reaches to 23 feet.
"I can confidently say that the water will not reach the critical 23 feet," said Minister Hakeem, who made a special statement in the House.
"Since of yesterday we have seen a steady decrease of water levels and it had gone down to 19 feet by morning, yesterday," he said.
"Due to the natural phenomenon of the sea level increasing during the two days before poya and two days after poya, while reaching the peak during poya day, we are closely monitoring the high tide that is being reported," he said.
Further the Minister said "Last morning there was a 0.4 metre rise in the sea level. It is reported, tomorrow being the Poya day, it may rise upto 0.5 metres. In such a situation discharge of water from the river could be observed," he said.
However, the minister noted that the water level would not increase upto 23 feet.
Further he said there is no truth in the reports which said the water from the Kelani River had been polluted with oil. (Yohan Perera)