---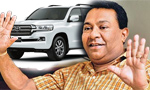 A rider was hospitalized after his motorcycle collided with a vehicle belonging to Minister S.B. Dissanayake at Madanwela in Hanguranketha today.
Police said Minister Dissanayake was inside the vehicle when the accident occurred, and a statement was recorded from the minister's driver.
They further stated that the injured was admitted to the Rikillagaskada Hospital, and was not in critical condition.
However, the minister's vehicle was taken into the custody.(DS)