---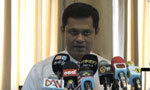 The Government Medical Officers' Association (GMOA) said the management of the South Asian Institute of Technology and Medicine (SAITM) should return the money of students with interest for the years they had wasted seeking a degree.
While claiming that SAITM had committed a serious financial crime against its students, the GMOA said the continuous backing of politicians had added to the injustice suffered by students.
GMOA Editor Dr. Nalinda Herath said the SAITM students should be repaid their full fees plus compensated for the years they had wasted.
He also proposed that if students having minimum qualifications for entrance to a state university were selected to complete a medical degree from a Sri Lanka Medical Council (SLMC) registered education institute anywhere in the world, the GMOA would not oppose it.
But the expenses for the medical education of the students should be borne by the SAITM management, Dr. Herath said. (Piyumi Fonseka)
Video by Sanjeewa