---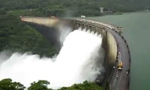 The Power and Energy Ministry said with the heavy rains that experienced in the country during last two weeks, many of the hydropower reservoirs had a water level of more than 75 per cent making the way of giving uninterrupted power supply to the country.
Power and Energy Minister Ranjith Siyambalapitiya said that more than 50 per cent of the power supply in the country was being generated from hydropower at the moment.
"Earlier this month many of the reservoirs did not have water, it was near ground level. But the with the adverse weather the country experienced earlier this week, many of our reservoirs have more than enough water to provide electricity," he said.
Siyambalapitiya stated the country had faced the most number of power cuts in that past six or seven months.