---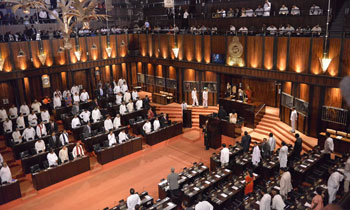 Political party leaders in Parliament will meet next week to decide on rectifying the errors in the Local Government Election Amendment Bill.
The meeting was decided when joint opposition parliamentary group leader Dinesh Gunawardene proposed that the errors should be rectified through a resolution in the House.
"It is better to rectify the errors through a resolution than via amendments so as to prevent the postponement LG polls," he said.
Mr Gunawardene accused the subject minister of attempting to delay the polls.
Prime Minister Ranil Wickremesinghe said would be no need to postpone the elections because the Attorney General's opinion could be sought. "Attorney General is in Bahamas and will be in Sri Lanka next week. Therefore party leaders can discuss this matter with him and decide what needed to be done," he said.
Speaker said the amendment could be taken up in the House next week. (Yohan Perera and Ajith Siriwardana)