---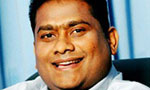 Ratnapura District MP Premalal Jayasekera and six others were indicted by the Attorney General in the Ratnapura Provincial High Court on charges of killing Shantha Dodangoda and injuring two others in a shooting incident while they were decorating the venue for a propaganda rally.
The rally was to be attended by the then common opposition presidential candidate Maithripala Sirisena during last year's election campaign.
The case was postponed to November 7 by Ratnapura Provincial High Court Judge U.S.B. Karaliyadda.
The suspects were meanwhile, released on a personal bail of Rs.500, 000 each.