---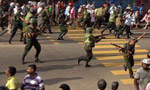 The killing of three youth in the Weliveriya town in 2013 during a protest campaign demanding drinking water for Rathupaswala, was today declared as an act of crime by Gampaha Chief Magistrate Ms Kavindya Nanayakkara.
Of the three victims, Shamly Ravishan Perera and Don Akila Dinesh had died of gunshot injuries on their heads while Nilantha Pushpakumara had died of injuries caused to his head by a blunt weapon, the Magistrate confirmed.
State Counsel Attorney Padmal Weerasinghe representing the CID, said Army officers belonging to 15 units had participated in the mission to suppress the mob uprising, but officers attached to 8 units had not joined to curb the protest held in the Weliveriya town.
He also explained that 98 T 56 firearms brought by the army to quell the uprising had been sent to the government analyst and the reports had been obtained. 42 more T56 firearms had to be sent to the government analyst for examination and reports. He also said that several other reports from the government analyst on items retrieved from the scene had not been received yet.
The magistrate ordered the analyst to submit its reports on outstanding matters and fixed the next hearing for January 20.
The prosecution was led by State counsel Padmal Weerasinghe and a team from the CID (Tony Karunanayake)