---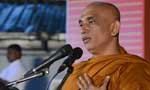 Parliament Member Ven. Athureliye Rathana Thera called on all the break-away groups of the Janatha Vimukthi Peramuna (JVP) to get together again to build the country and said that he too was willing to join such an effort.
Speaking at the funeral of the former JVP leader and the leader of the Janatha Sevaka Pakshaya, Somawansa Amarasinghe at the Borella Kanatte cemetery, the Thera said that Mr. Amarasinghe brought in two aspects to the Sri Lankan leftist politics, internationalism and patriotism. "He was an internationalist as a leftist politician while being a patriot" he stated.
Leaders of the JVP, its break away groups such as the Frontline Socialist Party and parliamentarians of many political parties also participated in the funeral.
He called on the various groups that had broken away from the JVP to unite shedding minor differences so that they all could serve the country as a force. (Muditha Dayananda)