---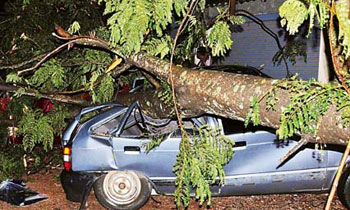 Hurricane style gale force winds accompanied by torrential rain wrecked havoc in the City of Colombo this evening ripping out trees and causing power disruptions in many areas of the City and its suburbs. Several trees were seen to have fallen on vehicles as well as public property as a result.
The weather conditions started to worsen at about 9 pm today and many parts of the country felt the brute force of mother nature including many parts of the Western Province and the coastal areas.
Fallen trees were seen obstructing a number of roads including the Colombo-Kandy Road and several other places including the court complex entrance at Aluth Kade.
A number of vehicles had been damaged in and around Colombo due to trees falling on them as a result of the strong winds.
Meanwhile, a tree has fallen on to power lines supplying electricity to the Sri Jayawardenapura Hospital cutting off the electricity supply. Power outages were also reported in many parts of the country. It was reported that Galle, Matara and and Ambalangoda were the worst hit with many power outages also being reported.
Police personnel along with fire fighters were seen working throughout the night to clear the fallen trees and clear the debris that had been scattered all over the City with the strong winds causing damage to several buildings in the Metropolitan area as well as damage done to statues while large billboards had also borne the brunt of the gale force winds that ripped through the city.
Strong winds exceeding 80 kmph accompanied by heavy rain hit several areas in the Southern Province last evening causing damage to house and property. The Matara District was the worst effected. (Thilanka Kanakarathna)