---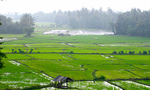 Despite the inclement weather conditions wreaking havoc, it has brought about positive results by filling major irrigation reservoirs sufficiently enabling paddy cultivation feasible during the Yala season, officials said yesterday.
The country experienced a dry spell in March, and as a result the irrigation authorities asked farmers to restrict paddy cultivation under irrigation tanks such as Minneriya, Giritale, Parakrama Samudra in the Polonnaruwa district.
Director General of Irrigation Saman Weerasinghe told Daily Mirror that farmers were asked to reserve at least 20 per cent of their paddy land for supplementary food crops.
"We encouraged farmers at that time to opt for other food crops instead of paddy under certain irrigation dams. Now, most reservoirs have been filled enough. Then, farmers will tend to cultivate more and more paddy this time. This is the positive side of adverse weather condition we experienced," he said.
Spill gates of four reservoirs-Tabbowa, Iginimitiya, Deduru Oya and Veheragala- still remains open. In other irrigation tanks, spill gates have now been closed. (Kelum Bandara)