---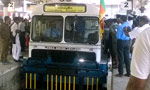 The rail-bus service between Kandy and Peradeniya was inaugurated last morning by Transport Services and Civil Aviation Minister Nimal Siripala De Silva.
Addressing the ceremony, he said he had decided to introduce a rail-bus service to ease the hardships faced by people due to the heavy traffic congestion in the main road between Kandy and Peradeniya. He said passengers in buses and other vehicles were held up for hours during rush hour and that the rail-bus service would come as a relief to them. He said the public had asked them to provide an additional train service between Kandy and Peradeniya in view of the inconvenience caused by the traffic congestion on the main road.
Railway officials said the rail-bus service would operate eight trips between Kandy and Peradeniya in the morning for the passengers' convenience.
The minister expressed dissatisfaction about the shortcomings and poor services at the Kandy railway station and warned the officials to take immediate steps to uplift the standards of the railway station which is used daily by thousands of people, including tourists. He instructed the stationmaster to close the substandard railway cafeteria and to refurbish it. The minister pointed out that common amenities, including toilets, were in a dilapidated state. He said he would make another visit soon to inspect the progress.
Chief Minister Central Province Sarath Ekanayake, Paliamentarian Luckie Jayawardene, General Manager Railways P.A.P.Ariyaratne and Secretary to the Ministry Nihal Somaweera were present at the occasion. (J.A.L. Jayasinghe)