---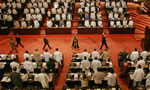 The Right to Information (RTI) Bill, though passed in Parliament more than a month ago, is yet to become the law of the country because the authorities concerned are struggling with difficulty to incorporate a certain amendment proposed by the Joint Opposition's parliamentary group leader Dinesh Gunawardane during its third reading , it is learnt.
The Bill was passed in Parliament on June 24, 2016 unanimously as the government agreed to incorporate amendments put forward by the Opposition.
The Bill, once certified by the Speaker, will provide for the Right of Access to Information, to specify grounds on which access may be denied, to establish the Right to Information Commission, to appoint Information Officers to public authorities and to set out the procedure and for matters connected with it.
In broad terms, people will get the right of access to information which is in the possession, custody or control of a public authority.
However, the Speaker has to sign it into Act for its operation in the country. The final draft has not yet been prepared by incorporating the amendments brought at the last stage in the House.
Secretary General of Parliament Dammika Dissanayake told Daily Mirror the relevant officials would meet today to work out the incorporation of the amendment. He said difficulty had been encountered due to the wording of the amendment to be put into legal format.
He was optimistic that the Speaker would be able to certify the bill and announce it in Parliament next week.
Earlier, the government also said it would take months for the Bill to become fully operative because of time consuming work involved in training information officers. (Kelum Bandara)