---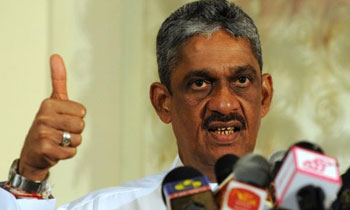 Minister of Regional Development Field Marshal Sarath Fonseka today said he could show quick results in apprehending wrong-doers if he is appointed as the minister of Law and order.
"I will show results in six months if I am given the portfolio of Law and Order" he told journalists.
Further, he said it is not advisable to appoint former President Mahinda Rajapaksa as the leader of Opposition.
"Country will go back to the era of depressing media rights if those who were rejected by the people are given an opportunity" he said.
Meanwhile, Deputy Minister Ranjan Ramanayake also said he too will work towards arresting wrong-doers quickly if he is at least appointed as the Deputy Minister of Law and Order. (Yohan Perera)