---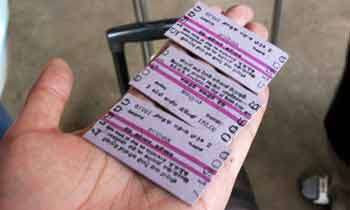 The General Manager Railways (GMR) yesterday said the public had been misled by the announcement made at a recent Cabinet meeting which had only referred to the increase of 15 per cent in train fares without explaining how it was calculated.
Speaking to the media GMR Dilantha Fernando said no details had been provided to the public except the increment at the Cabinet briefing which had caused much confusion among train commuters.
Accordingly, it was explained that the train-fare revision of 15 per cent was not on the current fare but based on the train fare charged per kilometre.
"Circulars for new ticket prices had already been sent to the main stations around the country and requested them to display three copies of ticket prices in substations situated between two main stations. The Station Masters (SMs) of main stations were told to calculate the train fares manually," he said.
The GMR requests the public to make complaints to the counters if there were any issues in the ticket prices shown. The new fares should be displayed at each station for the benefit of commuters, it said.
Tickets needed for three months are in stock at every main station. It said new stocks of tickets would not be delivered to stations that had failed to sell all its train tickets. Several stocks of tickets with the revised prices had been sent for printing," he said.
Since 1926 the calculation of train fares was done according to a certain formula.
"The previous fare charged per kilometre was Rs. 4.20 for the first class, Rs. 2.30 for second class and Rs.1.30 for a third class ticket. The 15 per cent increase has been calculated based on this fare for the three classes. Thereafter, if the fare when calculated, for example, comes to a sum which is between Rs.10.50 and Rs.14.50 it will be rounded up to Rs.15," Mr. Fernando explained.
He said the fares have been rounded up to avoid the issuance of small change. When asked if this calculation method fair to commuters, he said the same procedure was adopted when ticket prices were last reviewed in 2008. (Chaturanga Samarawickrama)