---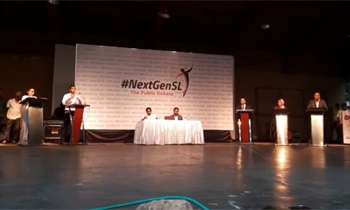 A public debate on whether a presidential or parliamentary election is the best solution to the current political crisis was held last evening at the Viharamahadevi Open Air Theatre.
The two teams in the debate were: #LetMeVote and #PresidentialFirst. #LetMeVote, the affirmative team for the debate, included R. Manoj Gamage, Jehan Hameed, Arun Tambimuttu and Eranda Ginige. They proposed that the current political crisis can only be resolved through a parliamentary election.
This proposition was contested by team #PresidentialFirst which comprised Namal Wijayamuni Zoysa, Lihini Fernando, Dinal Edirisinghe and N.K. Ashokbharan. Among the notable personalities in the audience was former Law and Order Minister Sagala Rathnayake.
However, inclusive of the supporters from both teams, the crowd did not seem to exceed 100 as rainy weather continued throughout the event.
Do we need a parliamentary election to resolve the current political crisis?
Motion: *"A general election should be held to resolve the current political crisis."*
Proposition: R. Manoj Gamage, Jehan Hameed, Arun Tambimuttu and Eranda Ginige
Opposition: Namal Soysa, Lihini Fernando, Dinal Edirisinghe and N.K. Ashokbharan
Co-chairpersons: Milinda Rajapaksha, the Spokesperson for former Defence Secretary Gotabaya Rajapaksa and political analyst/journalist Rasika Jayakody
Manoj Gamage – Attorney-at-law and former anchor at SLRC and TV Derana
"The current political crisis began on January 9, 2015, when President Maithripala Sirisena appointed Ranil Wickremesinghe as Prime Minister. He appointed a politician who had been defeated in 33 elections. That is where the Constitution was subjected to disrespect. Maithripala Sirisena's and Ranil Wickremesinghe's government gave a lot of promises to the people, only to breach not one but all of them. Those who blathered about justice and equality showed double standards in practising law. Their unsuccessful government plunged the country into an economic crisis. That is why President Sirisena was compelled to appoint a new premier and a new government. But Speaker Karu Jayasuriya started taking measures to 'snatch' executive powers vested with the President, by seeking stay orders from the judiciary. Subsequently, a so-called no-confidence motion (NCM) was approved in an unacceptable manner in Parliament. According to Article 3 of the Constitution, people should be allowed to vote and elect those who they deem suitable to the government. That is the only way to resolve the present political crisis. You cannot simply 'grab' the powers of the people.
"We have a thousand Gods, but these are not foreign countries like the UK and the USA. It is our own people. If you ask these four speakers, to them, democracy is Ranil Wickremesinghe but not for us. Don't let the UK and the US embassies decide the future of Sri Lanka. This should be done by our people."
Namal Wijayamuni Soyza - Diplomat
"There are only two ways in which a general election could be held; 1) If 4.5 years have elapsed since the last general election and 2) If it receives the approval of a two-thirds majority in Parliament. No one can use the people's rights and mandate to fulfil personal political agendas and go to the next level of own political journeys. What people need is not a general election. Don't create a bogus opinion about such a need.
"The political impasse that occurred on October 26 this year is unconstitutional, undemocratic, anti-social and illegal. This has left the country in a deadlock. They tried to grab the power in Parliament by buying over MPs for millions of rupees. But it didn't work out. That is when they started begging for a general election. This crisis is created by the executive. Therefore, what really needs to be changed is the executive through a presidential election."
Jehan Hameed - Political activist for SLPP and entrepreneur
"The Constitution prior to 19A allowed general elections to be called a year after last held but it was changed, but doesn't know how. We have a Constitutional flaw as a result of the 19th Amendment. It is brought in not for the benefit of the country, but for one person, Ranil Wickremesinghe. The executive must have the right to change the PM. This is not about Maithripala Sirisena or Mahinda Rajapaksa. This is about the Constitution. If the President cannot run with a problematic government, then what is left for him other than to dissolve the Parliament?
Despite all those allegations about golden horses and Lamborghinis, nothing could be proved before the law. Instead, they started selling national assets. Ironically, they have been levelled with more serious charges like assassination plots. 20A is also not for the benefit of the country."
Lihini Fernando – Attorney-at-law and UNP Municipal Councillor for Moratuwa
"In response to Jehan Hameed's statement about the flawed 19A to the Constitution; when 19A was passed with a majority in Parliament, didn't your Pohottuwa folks vote in favour? If it were flawed, you should have shown your opposition then. Do not interpret the Constitution the way you desire.
"The country must prepare for the presidential election next because that is what the country needs now. The opposition says it loves the country, but patriots do not flout the Constitution, disrespect the judiciary, damage State property or throw chilli powder at people. Dear people, do not be fooled!
"Mahinda Rajapaksa and his cohorts demand a general election because they got no other option to escape pending court cases. All they want is to remain in power by hook or crook. All the serious court cases against the Rajapaksas and their affiliates are scheduled to be heard in court in the coming months. That is why they are begging a people's poll to cover up their sins. The people's mandate was betrayed and gone for secret political deals. What should really happen now in the country is establishing democracy in Parliament. The solution is not going in for a general election, but let those who have a majority in Parliament to continue the government."
Arun Tambimuttu – Economist and former SLFP Organiser for Batticaloa
"I do not care about Mahinda Rajapaksa. We want stability and safety in this country. President Maithripala Sirisena can be impeached and there is no barrier for concerned parties. I care about my rights. You talk about constitutionality; where was constitutionality when you impeached former Chief Justice Mohan Pieris? Neither Parliament nor the Constitution is supreme. It is the people who are supreme.
"19A has stripped me of the rights because I gave the right to the President to dissolve Parliament. The Constitution has been tampered with because they do not want to go before the voters. As sovereignty holders, we should be able to elect the governors of the country. The right of the people to decide who should rule the country is robbed. Why is the phobia to go to the people? Whenever there is an impasse, the only answer should come from the people."
D. Edirisinghe - Entrepreneur
"In response to Arun Tambimuttu's statement about the impeachment of former Chief Justice Mohan Peiris; former Chief Justice Shirani Bandaranayake gave a decision against the Rajapaksa regime and she was impeached?
"The speakers of the other side ranted about the Central Bank bond issue. For the first time, a Prime Minister was testified before a Presidential Commission. Then, the matter was put to court and the assets of Perpetual Treasuries Limited were frozen. That is how the law and order were practised. This kind of thing did not happen from 2005-2015.
"President Maithripala Sirisena's manifesto was to appoint Ranil Wickremesinghe as PM if he wins, which is what he fulfilled. If there were a problem, the solution should have been found legally. You cannot have a poll just because the President wants it. We are talking about the Constitution and they are okay with dirty money. Restore Parliament democracy without further delay."
Eranda Ginige – Entrepreneur and founder of Enterprise Sri Lanka
"As the famous saying goes by, diapers and politicians need to be changed. Why so scared? If you are confident of the people's support, why not go for general elections? The problem lies in Parliament and therefore change should be made within the Parliament."
"PresidentialFirst team leader Namal Wijayamuni Zoysa asked, "If the problem should be solved in Parliament, why are your politicians not even coming to Parliament?"
Then, Eranda Ginige replied; "Do you say all those MPs who robbed the country for the last four years should be re-elected?
"Don't keep playing 'tape on repeat' and bringing 'fake news' to a public debate. We don't care about Mahinda, Maithri or Ranil. Give the right to the people. You cannot understand the pain people undergo. Don't be scared to face a general poll. I am also inviting speakers of the other party to come to our side and let the people vote. Stand in people's side and let them create a new Parliament."
N.K. Ashokbharan – Attorney-at-law
In response to Eranda Ginige's statement regarding diapers and politicians; "That is exactly what we did in 2015 by chasing away Mahinda Rajapaksa."
"Constitutional toddlers should go and read the Constitution again. Polls cannot be called whenever they want. Only when bartering of MPs was unsuccessful, they came up with LetMeVote. If the President says again he is not happy with the new Prime Minister, he will want to change again. He must get the mandate for his newly-formed love. His newly-found love has no mandate. The only person who has to get a mandate now is President. If you marry someone and want a divorce, you still have to go through due process. Follow due process. Don't come and create Constitutional vandalism.
"President must obtain a fresh mandate. On January 8, 2015, he was given mandate because he was against certain politicians. Now he has shamelessly joined with them. There are rules. If there is a need to change the government, it must happen at the stipulated time, within the stipulated Constitutional framework that is enacted by the people themselves." (Piyumi Fonseka and Sheain Fernandopulle)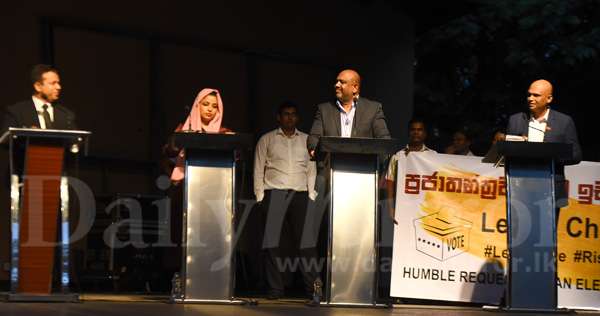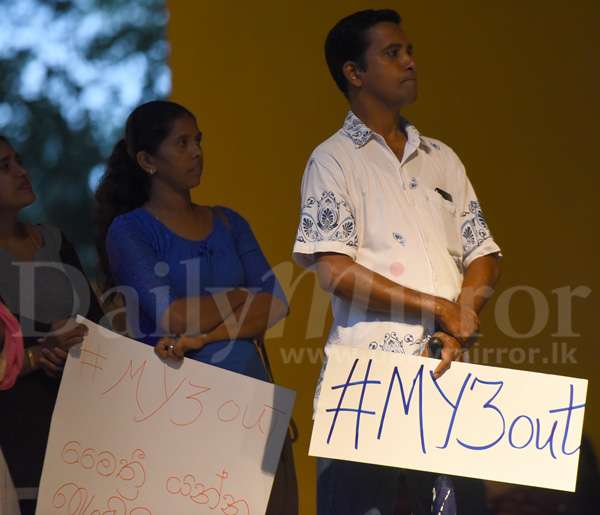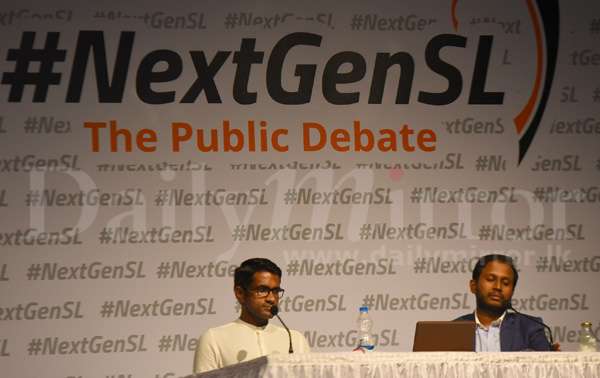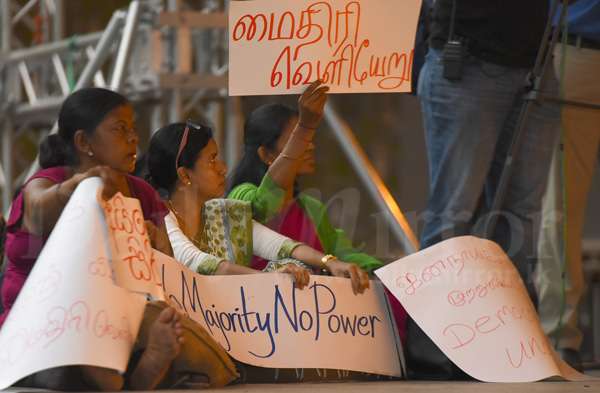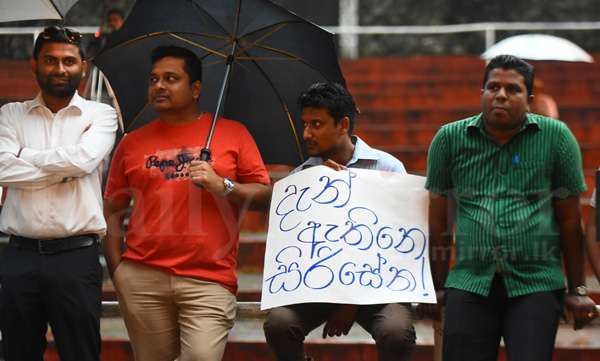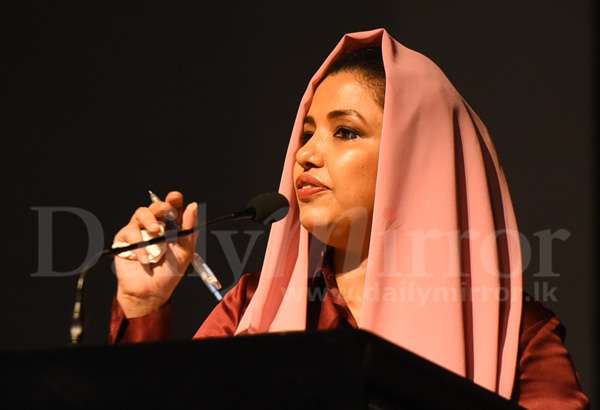 Pix by Kithsiri de Mel