---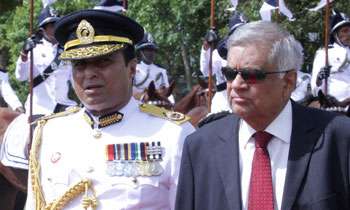 A paper is to be submitted to the Cabinet soon to set up a Police and Crimes University, Prime Minister Ranil Wickremesinghe said yesterday.
The Prime Minister revealed this at the 152nd police day celebrations held at the Field Force Head Quarters grounds in Bambalapitiya last evening.
"It is essential to tackle drug trafficking. An Emergency response team has been established for this purpose. We hope to present to cabinet a paper to set up a police and Crimes University shortly. IGP has told me that this information is not reported in the media. I have to tell him that police and the politicians are ones who are criticized heavily in this country. Police are not praised no matter how hard they work," the Prime Minister said.
The Prime Minister said police should make a review on how it had worked and find out what its shortcomings are. "Without just satisfying itself with what it had done during this year, the police should re-look at what it had gained and where it had gone wrong. One achievement of the police this year is the last local government election which was peaceful. Police did a good job providing security to counting centres and polling booths. A shortcoming where the police are concerned is the incident in Digana. Police should learn from its mistakes committed in Digana. It was possible how violence and crimes were triggered through social media. Therefore the police should focus more on technology," he added.
"The IGP should work with the Minister and Deputy Minister of law and order who are working towards developing the police further. We have increased the salaries of police officers. I have instructed by the secretary to call the senior police officers and members of police commission and have a dialogue with them to resolve issues pertaining to police. British government started a police to maintain law and order. A service named police was formed by the British government for the first time in the world to maintain law and order. There is a police force in many countries. Some countries do not have an army but there is a police service. Army and other forces were given the task of maintaining law and order during wartime but now that responsibility totally lies with the police. The main task of the police is to uphold rule of law. There are semi-forces in some countries, STF acts as a semi-force in Sri Lanka. STF could be proud as it is the first semi-force created in Asia. Police and the STF have been entrusted with the task of maintaining law and order. The country is not stable when there is no law and order. It is not possible to develop a nation which is not stable," he also said.
IGP Pujith Jayasundara said the police have already embarked on establishing an emergency response team. He said infrastructure needed for it has been put in place while recruitment and training is also underway. (Yohan Perera)