---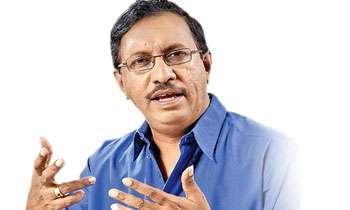 Priority of the government would be given to addressing burning economic issues like the sharp depreciation of the rupee against the dollar, ease the heavy tax burden on people and bring down the cost of living, Finance State Minister Anura Priyadharshana Yapa said.
Minister Yapa noted that the Finance and Economic Affairs Ministry was in the process of preparing a long, middle and short term strategic plan to plug the depreciation of rupee, bring down the cost of living and a new tax regime that would not put unnecessary burden on the tax payer.
He told the media after assuming duties as the State Minister of Economic Affairs that most of the new economic, monetary and tax policies would be incorporated in the budget 2019.
"We have already given a package or relief to the people soon after the Mahinda Rajapaksa government was formed. The much hated fuel price formula has been withdrawn. More benefits are on the pipeline. But we must admit that we cannot ignore the global and domestic factors when we provide you various relieve. People had been thoroughly disappointed and unhappy over the handling of the economy by the previous government. We try our best to avoid economic and monetary policies of the last government that affected the day today life of the people," he stressed.
Minister Yapa stressed the need of a complete overhaul of the tax system of the country. Tax evasion was widespread, indirect tax ration was high and direct tax ration was low. There was a shortfall in tax collection than targeted tax revenue every year. The problem faced by the government was to provide relief to the people while facing all these setbacks, Minister Yapa pointed out.
Minister Yapa emphasized that sustainable national economic, tax and monetary policies that would not change with the change of governments was extremely vital if Sri Lana was to achieve sustainable economic progress.
Prime Minister and Finance and Economic Affairs Minister Mahinda Rajapaksa, Former Ministers Lakshman Yapa Abeywardana, Dunesh Gankanda, Dr. Sudharshini Fernandopulle and Secretary, Finance S.R. Atygalle were also present at the ceremony. (Sandun A Jayasekera)