---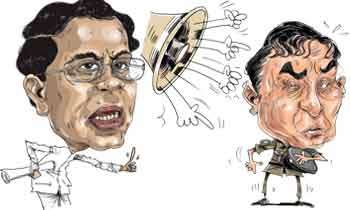 Amid mounting criticism of the police, President Maithripala Sirisena is reported to have berated Police Chief Pujith Jayasundara at yesterday's Cabinet meeting even calling his behaviour unbecoming of his post.
It has come in the wake of Higher Education Minister Wijeyadasa Rajapakshe reportedly raising concern with regard to the increasing number of crimes in the country.
However, Law and Order Minister Ranjith Madduma Bandara had pointed out that according to available statistices the crime rate had dropped though the media was claiming otherwise.
The President had intervened saying whatever anyone might say, the Police Service had deteriorated in terms of its performance and highlighted the fact that the entire police service including the Police Chief should be reformed without delay.
He said he and Prime Minister Ranil Wickremesinghe had been embarrassed by the Police Chief's actions.
The President levelled these allegations against the Police Chief at a time when investigations were in progress regarding an alleged plot to assassinate him and former defence secretary Gotabaya Rajapaksa. (Kelum Bandara)