---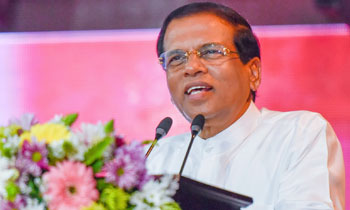 President Maithripala Sirisena said today that he would not participate in the opening of the newly built Prison Facility known as 'Super Prison' in Angunukolapelessa, Hambantota scheduled to be opened on March 16.
The President made the above remarks at a ceremony held today to celebrate the 150th Anniversary of the St. Mary's College in Kegalle.
He said a lot of money had been spent on the prison that was built with many facilities.
He said that even though he had received invitation to declare the facility open, he declined it because rather than opening a prison it was worth to open a school, which would provide education to children.
"We should build a country, which opens schools and closes prisons. We should also build a country where people are healthy, and the number of hospitals minimised," he added.
President Sirisena said that the country was crammed with prisons and indecent people. He said that criminals were growing in numbers with society becoming very competitive.
He recalled the statement of late American Baptist Minister and Social Activist Martin Luther King, "The greatest tragedy of this period of social transition was not the strident clamour of the bad people, but the appalling silence of the good people" and said that intellectuals and great persons should be born more and more in this country to suppress the strident clamour of the bad people. (Thilanka Kanakarathna)
Video by Saliya Gamasinghearchchi